Well, we are almost there.
Percona Live 2021 is just around the corner and this year comes with a very "dense" agenda.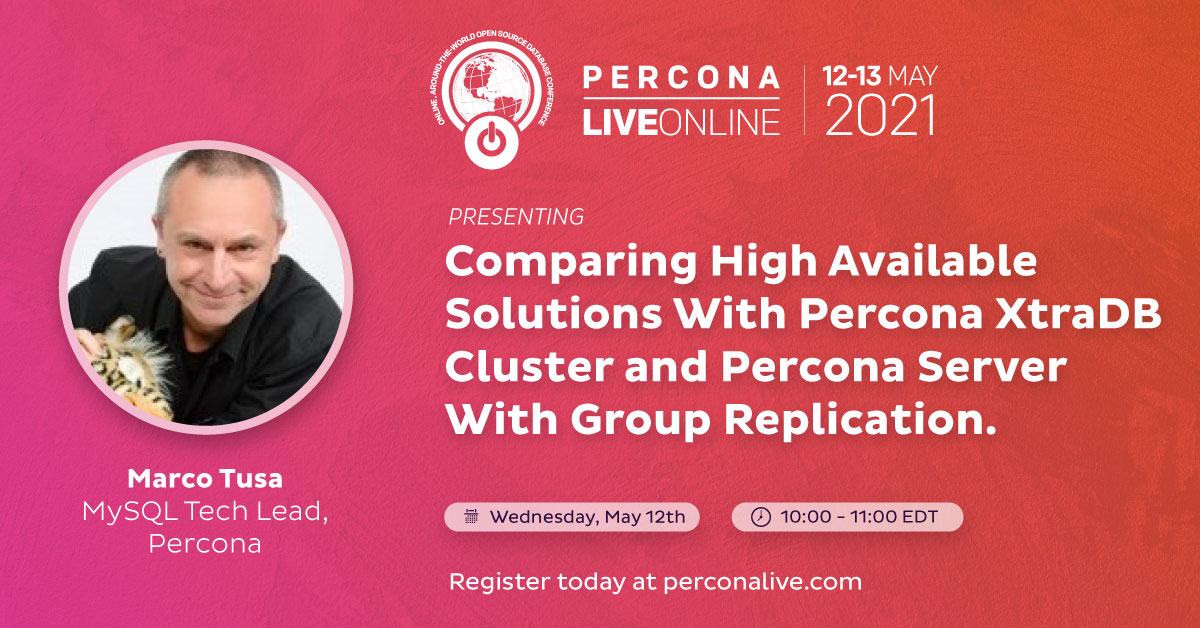 From my side I am giving a speech that is a high-level comparison between PXC and PS with group replication as highly available solutions.
It is a bit new for me to be at such high level, given I prefer to dig into technical, but I also think it was worth to stop and have the chance better understand what gives us what.
Anyhow this blog is not about that.
Given, as said, this year we will have a very "dense" schedule, I initially look at it and get scared.
"Too much stuff!", that was my initial thought. Then I take a breath, reserve a couple of hours of my personal time, and start to dig-in.
In general, I have to say that thanks to the fact we are having an online event with registered speech it would be easier to attend multiple tracks also when conflicting.
What I did, I start to prune the agenda from the topics I am less interested, like marketing, or from source we know are predicating right and acting in totally different way. Then I navigate the speeches reading abstracts, reading about the speaker (if I was not familiar with), and start to compile my list.
Once done I realized it was a quite good and solid track, and possible worthy to share.
Spoiler alert, I love fantasy, so you may end up in attending one or two speech which will talk about fables, but you know we always need to have some fun time.
Before sharing the schedule, I want to mention that without the incredible work done by Bronwyn Campbell (Global Events Manager in Percona) and Valentina Lago (Global Events Coordinator) Percona Live would not exists. Given that we should thanks them for the HUGE effort done to realize this incredible event.
And now my list, I have left some holes here and there, where there was nothing interesting for me, to attend the speeches that are in conflict.
The link to the agenda: https://perconaliveonline.sched.com/
Hope you will find it useful:
All times are in EDT
May 12
6:30
Percona Server for MySQL in the Enterprise - Dimitri Vanoverbeke
Building and Scaling a Robust Zero-Code Data Pipeline With Open Source Technologies - Paul Brebner
8:00
Projections in ClickHouse - Amos Bird
Revertible, Recoverable Schema Migrations in Vitess - Shlomi Noach
8:30
Creating MySQL User-Defined Functions in C++ Has Never Been Easier - Yura Sorokin
ClickHouse 2021: New Features and Roadmap - Alexey Milovidov
9:00
The Essentials of Search - Kyle Davis
11:00
Organize the Migration of a Hundred Database Clusters to the Cloud - Maxime Fouilleul
13:00
Sharding All The Way Down: Building Fast and Highly Concurrent Databases on Modern Hardware - Avishai Ish-Shalom
13:30
Creating Chaos in Databases - Vadim Tkachenko
14:00
The Top 5 Things You Should Know About Databases on Kubernetes vs VMs - Marco Nicosia - Rachel Heaton - Adam Berlin
15:00
ARM Power! Comparing MySQL x86 vs ARM Performance - Vinicius. Grippa
16:00
Debug a Kubernetes Operator - Philipp Krenn
Kubernetes-on-Rails?! KateSQL: A Shopify-Scale Cloud-Hosted MySQL Platform - Jeremy Cole - Akshay Suryawanshi
17:30
MyRocks - The 30,000 Foot View - Mike Benshoof
Open Source DBaaS with PMM - Steve Hoffman
May 13
7:00
Hybrid TP/AP With MySQL and ClickHouse - Stig Bakken
OSINT - Do You Really Know What Data You're Leaking? - David Busby
How Machine Learning Inside Databases Solves Significant Data-Science Challenges - Jorge Torres - Patricio Cerda-Mardini
7:30
Setup and manage alerts for databases with Integrated alerting in Percona Monitoring and Management - Peter Boros - Zoriana Stefanyshyn
8:30
Test Applications' Storage Stability by Injecting Storage Errors - Keao Yang
9:00
Everything a DBA Should Know About Kubernetes - Janos Pasztor
9:30
MySQL Shell for DBAs - Frédéric Descamps
10:00
How to Develop BPF Tools with libbpf + BPF CO-RE - Wenbo Zhang
10:30
Don't Feed Me Dog Food and Call it a 5 Star Meal. How the Open Source Landscape is Being Hijacked. - Matt Yonkovit
11:00
Brand New Development Announced at PL - Johannes Schlüter - Kenny Gryp
Scaling Out Distributed Storage Fabric with RocksDB - Yasaswi Kishore - Sandeep Madanala
13:00
Successfully Run Your MySQL NDB Cluster in Kubernetes - Tiago Alves
14:00
GraphQL as Analytical Language for Data Warehouses - Aleksey Studnev